Vegan
1ml
10,95 €/ml, inkl. MwSt.
An all-in-one eyeliner for a velvety matte finish
Velvety matte finish
Delicate sponge tip for precise definition
Quick-drying, water-resistant formula
More product details
The eyeliner pencil every woman needs! The Sensitive Fine Liner meets all the requirements for creating breathtaking eye definition! This liquid eyeliner is ideal for creating clear, even lines that skillfully accentuate every eye shape. The long-lasting, paraben-free formula is highly pigmented for excellent coverage and dries quickly to a velvety matte finish. The ergonomic grip sits comfortably and securely in the hand, making the eyeliner effortless to apply—even for those new to eyeliner. The delicate sponge tip allows you to quickly line the eye with beautiful, thick, and intense color. With every application, the liner ensures the correct amount of color is released. This results in a stylish and striking eye makeup look. The jet-black color of shade no. 1 playfully enhances the lash line with its precise tip. The colored versions contain natural pigments that are ideal for accentuating specific areas with their delicate tips. At the same time, the smudge-proof and water-resistant formula prevents the liner from smearing or transferring to your eyes. This eyeliner certainly ticks all the boxes!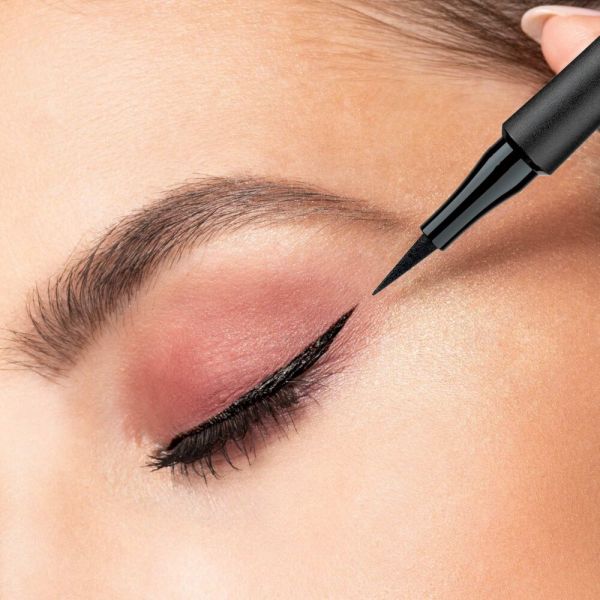 Apply the eyeliner to the lash line from the inner to the outer corner of the eye. After each use, replace the lid securely and store horizontally to avoid the eyeliner drying out.

Select a color to see the corresponding ingredients.
Please note: To get the best textures, we always draw on the latest scientific findings. This may result in changes to the product labeling.