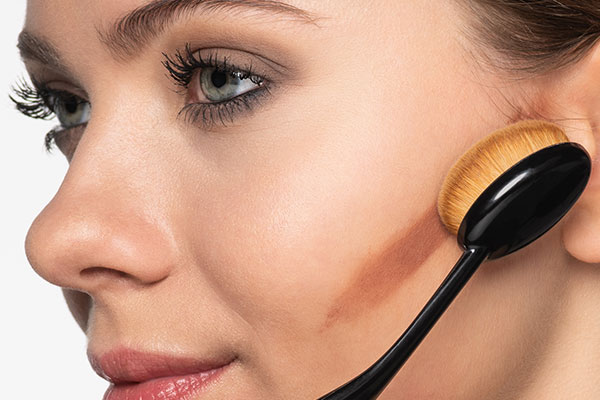 #ARTDECOBeauties
Become part of the ARTDECO community! Post your ARTDECO looks
Join in: Every month we will be randomly selecting a photo and giving away attractive product prizes!
ARTDECO camouflage makeup and contouring for perfect skin
Get flawless skin with camouflage makeup and contouring products from ARTDECO
Camouflage makeup is an effective tool for correcting pesky imperfections. What makes ARTDECO camouflage makeup so special? It stands out thanks to its perfect, waterproof coverage and infinitely long staying power. Thanks to its intense color pigments, camouflage makeup is the best way to visibly neutralize red blood vessels, skin pigmentation, freckles, imperfections, or scars on your face and body. You can even use it to cover up tattoos. ARTDECO camouflage makeup is available as a Camouflage Cream, a Liquid Camouflage or a Camouflage Stick. For best results, it's important to choose a color that perfectly matches your skin tone. You can even mix colors to get the perfect shade for your skin. Set your camouflage makeup, like our ARTDECO Liquid Camouflage or Camouflage Cream, with our Fixing Powder. Our powder not only seals your makeup, but makes it waterproof and long-lasting, too. The result? Flawless makeup that lasts the entire day. Thanks to its perfect coverage, with our camouflage makeup, you're well equipped to handle every situation – come rain or shine. When it comes to getting perfect skin, professional makeup artists swear by camouflage. Learn how to apply camouflage makeup in our camouflage makeup tips!
Dreaming of a narrower nose or higher cheekbones? Contouring is one of the best techniques for highlighting your features and concealing imperfections. With the right products, it's easy to contour your face and hide imperfections. The result? Perfect skin. Products like the ARTDECO Contouring Powder and our Contouring Brush Premium Quality are perfect for applying contouring makeup. They are a sure-fire way to natural, everyday contouring in the blink of an eye! Learn how to apply contouring makeup, and what to keep in mind, in our contouring makeup tips.