Vegan
Natural Finish Compact Foundation
7.5g
2,93 €/g, inkl. MwSt.
Pressed powder foundation made with at least 90% ingredients of natural origin*
Natural powder foundation with revitalizing effect
At least 90% ingredients of natural origin*
Innovative packaging made with at least 40% rice husk powder
More product details
Do you want a perfect complexion that still looks like real skin? The Natural Finish Compact Foundation combines both features in one. As well as its excellent performance, the powder foundation also impresses with its ingredients and packaging! The natural formula with minerals contains at least 90% ingredients of natural origin*. Ximenia seed oil ensures the product adheres effectively to the skin, whilst the rejuvenating properties have a revitalizing and optically restructuring effect. The fine texture instantly mattifies areas of shine to leave the complexion looking even and silky-smooth. The skin compatibility of the powder is dermatologically approved, which means it is safe to use on sensitive skin. The product does not oxidize on the skin. The color intensity can vary from subtle to intense depending on the amount you apply—perfect for a natural, fresh finish!
Packaging:
The packaging is made with at least 40% rice husk powder, which is recyclable and therefore 100% eco-friendly.
Folding Box:
ARTDECO has purposely chosen paper from sustainable forestry, sourced from responsibly cultivated forests and plantations.
The most important ingredients and their effects:
Ximenia seed oil ensures the product adheres well to the skin, has a revitalizing effect, and prevents skin aging
Free from mineral oils, parabens, silicones, PEG/-compounds, talc, GMOs (genetically modified organisms)
Vegan (no ingredients of animal origin)
* In order to improve transparency for our customers, we have purposely chosen not to include the percentage of water contained in the products as part of the natural ingredients. As a result, the percentages of natural ingredients given explicitly exclude water and are based largely on plants and minerals. The remaining 10% helps to ensure the excellent performance and durability of the product.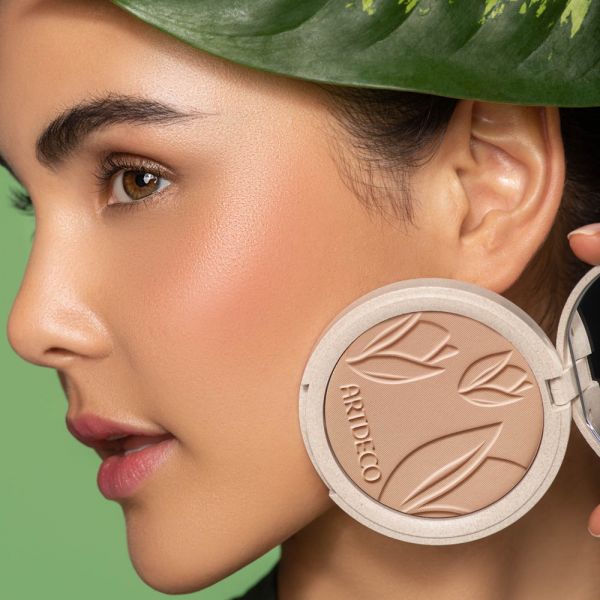 Pick up the Natural Finish Compact Foundation on a puff or a powder brush such as the Multi Powder Brush. Then apply the foundation directly onto the skin.
Select a color to see the corresponding ingredients.
Please note: To get the best textures, we always draw on the latest scientific findings. This may result in changes to the product labeling.