Vegan
Velvet gloss lipstick made of at least 80% natural ingredients*
Velvet lipstick with high color intensity
At least 80% natural ingredients*
Innovative packaging made of at least 40% rice husk powder
More product details
Combine the power of nature with the essential qualities of a modern lipstick! As well as its excellent performance, the Natural Cream Lipstick also impresses with its ingredients and packaging. The formula contains at least 80% natural ingredients.* The light, skin-nourishing oil caprylic/capric triglyceride and 100% natural candelilla wax give your lips a velvety-soft feel. The skin compatibility of the lipstick is dermatologically approved, which means it is safe to use on sensitive lips. Thanks to its creamy texture, the lipstick glides gently over your lips and leaves them looking smooth and nourished. Mineral pigments provide high color intensity, coating the lips in smooth, glossy color in just one application. Give your lips an even and balanced appearance for a naturally beautiful look!

Packaging:
The packaging is made of at least 40% rice husk powder, which is recyclable and therefore 100% eco-friendly.

Folding box:
ARTDECO has purposely chosen paper from sustainable forestry, sourced from responsibly cultivated forests and plantations.
The most important ingredients and their effects:
Caprylic/capric triglyceride is a natural, skin-nourishing oil, which provides the skin with valuable lipids (fats) on a lasting basis
Candelilla wax leaves the lips velvety-soft and nourished with daily use
Mineral pigments are insoluble colorants, which are obtained by grinding minerals and achieve a glossy color intensity
Preservatives protect the product performance to guarantee excellent durability
Free from mineral oils, parabens, silicones, PEG/-compounds, talc, GMOs (genetically modified organisms)
Vegan (no ingredients of animal origin)

* In order to improve transparency for our customers, we have purposely chosen not to include the percentage of water contained in the products as part of the natural ingredients. As a result, the percentages of natural ingredients given explicitly exclude water and are based largely on plants and minerals. The remaining 20% helps to ensure the excellent performance and durability of the product.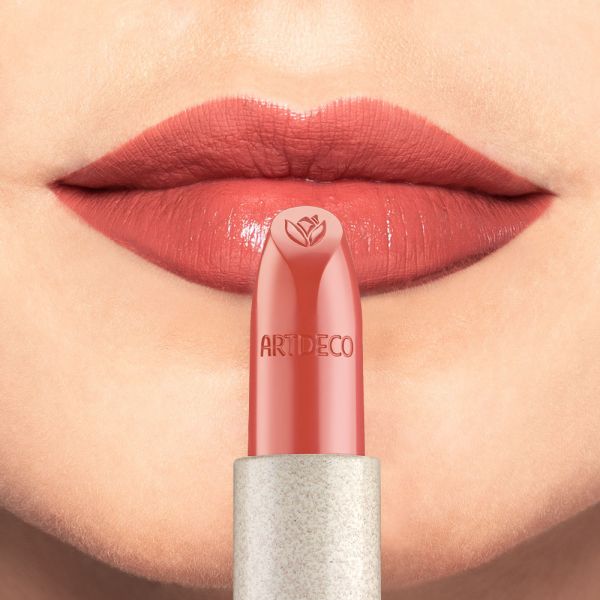 Apply the Natural Cream Lipstick directly onto your lips or over lip balm.

Tip: Use the Smooth Lip Liner in a matching shade to define your lip contour. This will also extend the wear time of the lipstick. Applying Magic Fix is another way to make the lipstick last longer.
Select a color to see the corresponding ingredients.
Please note: To get the best textures, we always draw on the latest scientific findings. This may result in changes to the product labeling.