3.5g
3,99 €/g, inkl. MwSt.
Nourishing lipstick with sheer color
Triple care effect
Medium coverage for a natural look
Can reduce lip wrinkles with regular use
More product details
This lipstick cares for your lips in three ways! The Hydra Care Lipstick combines two nourishing formulas in one! The two outer stripes of the lipstick contain an Indian plant extract and a special peptide made of jojoba oil with pomegranate blossom extract. This combination of ingredients makes the lips soft and smooth with a fuller appearance. When applied to the lips, the sheer lipstick color blends with the transparent middle stripe, which is made of hydrating hyaluronic acid and glucomannan. This combination gives the lips a beautiful natural finish and prevents them from drying out, which is particularly useful in the winter months. For natural-looking lips that are easy to fall in love with!
The most important ingredients and their effects:
Indian plant extract (swertia chiarata) and jojoba oil make the lips feel soft and smooth.
Pomegranate blossom extract regenerates mature, dry skin and leaves it silky-smooth
Hyaluronic acid hydrates the lips and acts as a filler
Glucomannan supplies moisture for natural-looking lips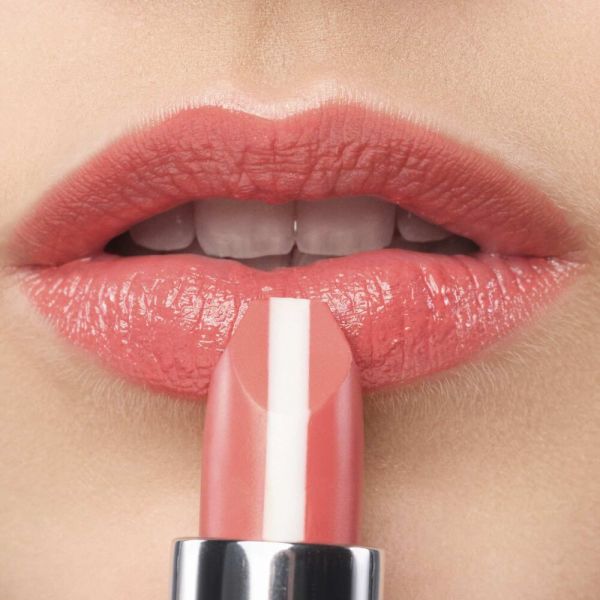 Apply the lipstick to the lips. When applied to the lips, the transparent stripe in the middle blends with the colored outer stripes to create an even color result.
Select a color to see the corresponding ingredients.
Please note: To get the best textures, we always draw on the latest scientific findings. This may result in changes to the product labeling.