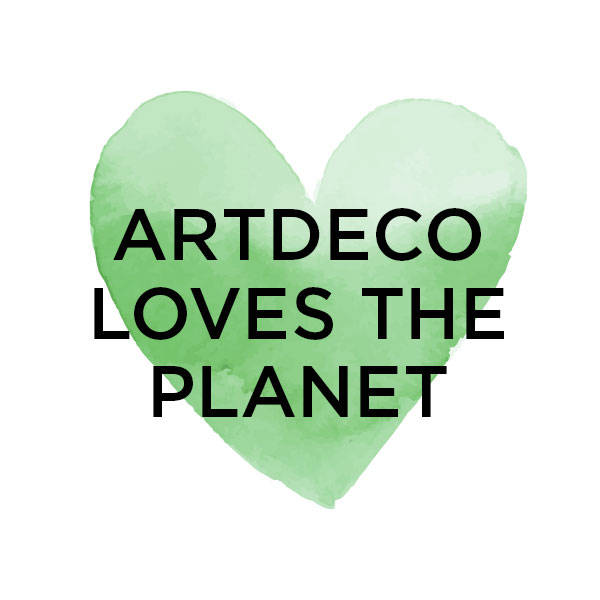 As a family-run company with a long-standing tradition, sustainability has always been in our DNA.
Learn about what sustainability means to us.
Our vision & goals for a sustainable future
Sustainability has been embedded at ARTDECO since our founding. We want to continuously develop and improve ourselves. Progressively improving our sustainability whenever and wherever we can is very important to us.
The journey is the reward.
Our goal is to produce less waste and to design our way of working to be more sustainable – along the entire supply chain! From production and packaging to delivery to you at home. Of course, we've not yet reached our objective, but are heading towards the future, one step at a time.
Less waste, more beauty!
We're no strangers to sustainability! For decades, ARTDECO has been taking social, environmental, and economic responsibility for its employees, customers, and future generations. Our aim is to gradually optimize our processes and products in line with our values to show more transparency, responsibility, and capacity for innovation.
We've been committed to sustainability for decades in many different ways, from our in-house production with short distances, to our home office model for employees, and our refillable system as the core of our collection.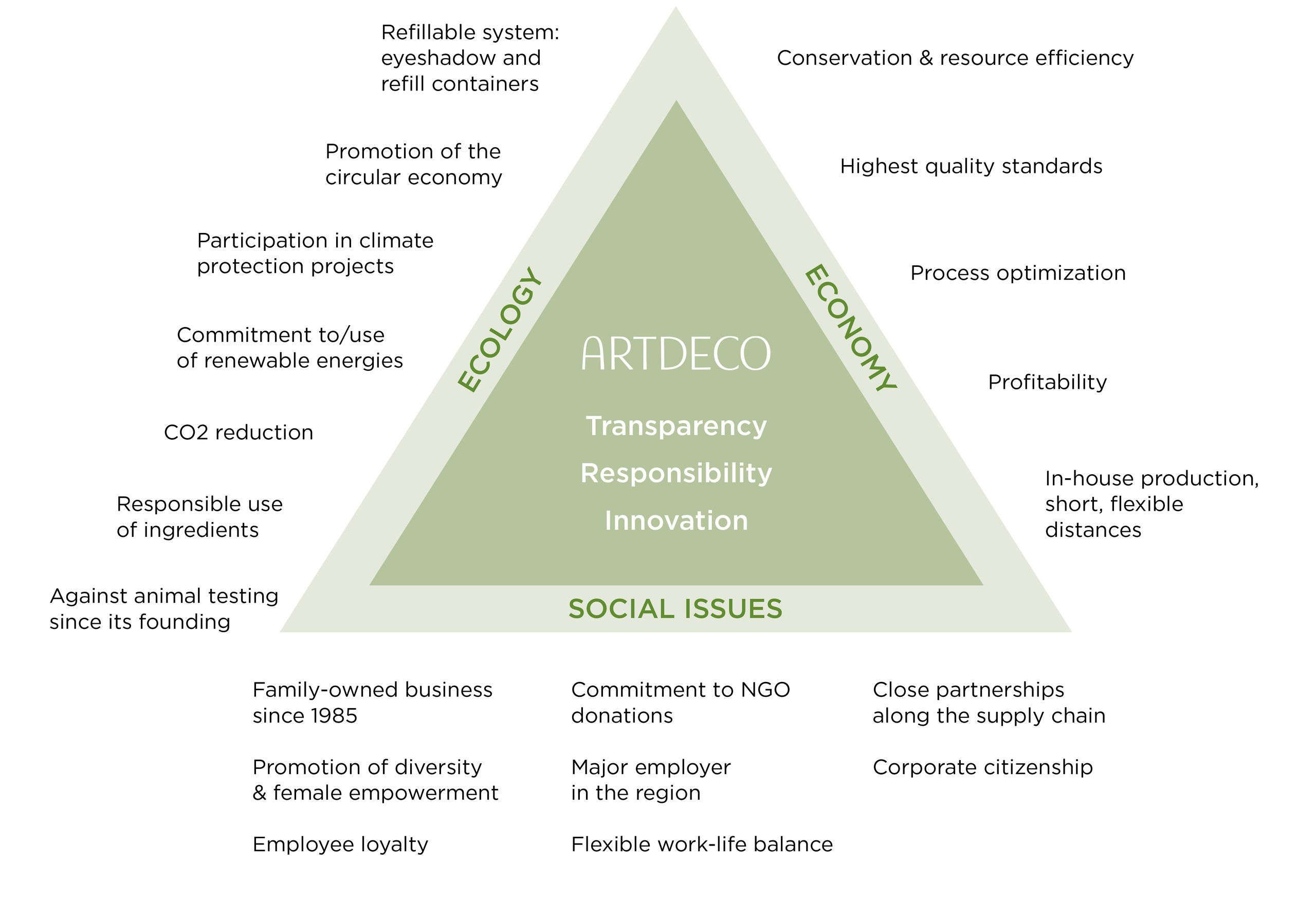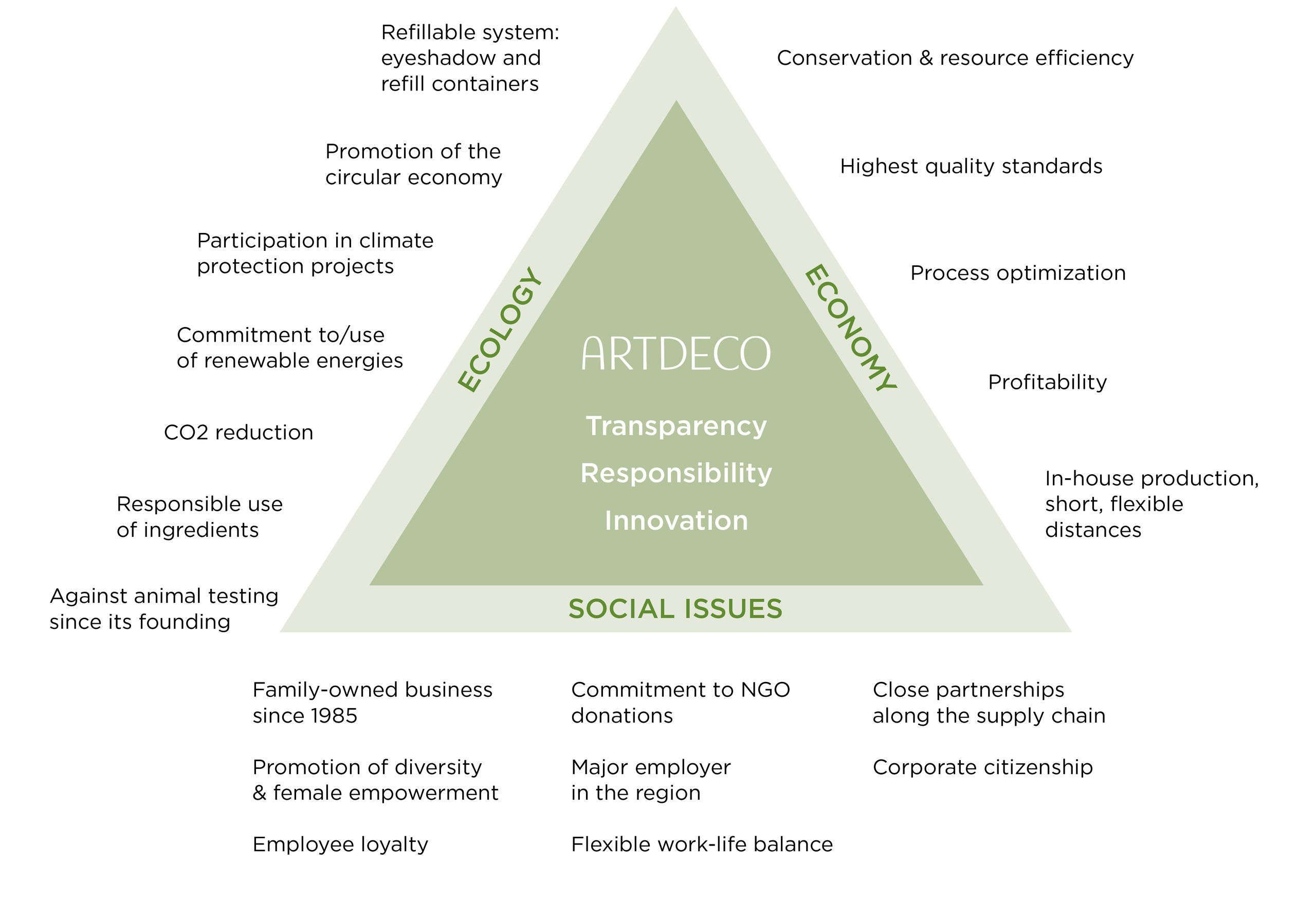 Sustainability is always part of our journey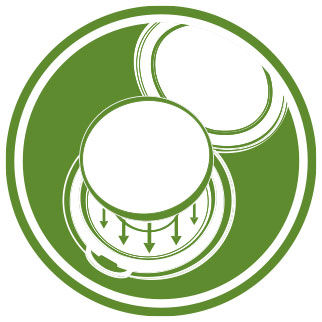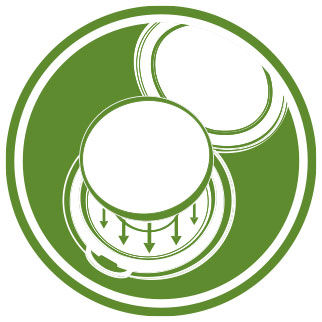 We have established our refillable system for eyeshadow, blush, camouflage and powder since our founding in 1985. Did you know that 25% of our products can be refilled?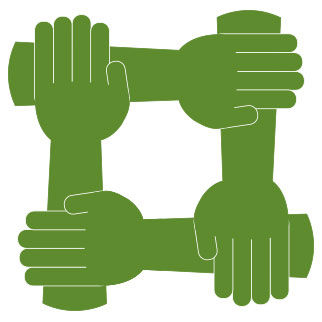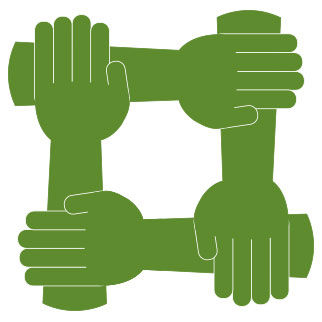 We are proud to employ 272 workers from our region who work from home. We manufacture part of our products together with disabled workshops and penal institutions.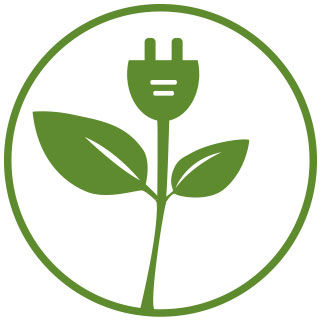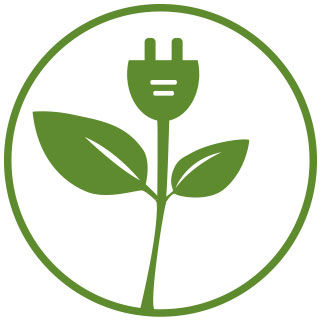 COMMITMENT TO RENEWABLE ENERGY
We have generated 1.2 million kwH of solar energy from the solar panels on our roof since 2008. The servers for our online shop have also changed to green electricity.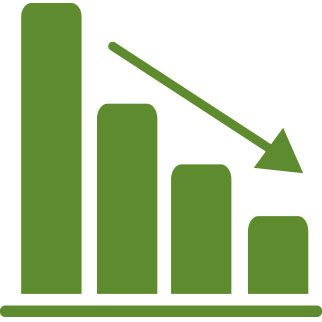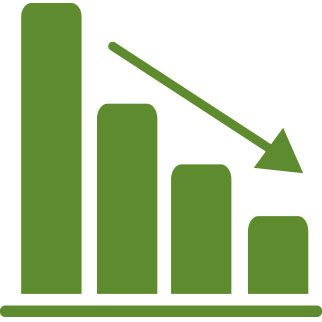 REDUCING CO2 & CONSERVING RESOURCES
We have been able to reduce our CO2 emissions by switching from DHL to DHL Go Green. We did away with cellophane wrapping on our folding boxes a few years ago, which saved resources, like in other areas.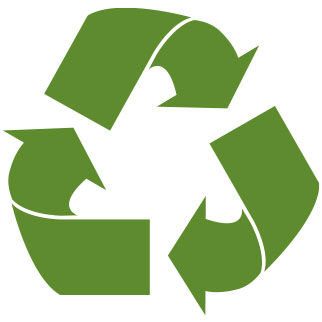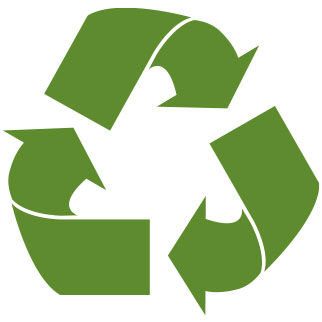 We have switched from bubble wrap to recycled paper as a filling material when shipping our products.
OUR COMMITMENT TO SUSTAINABILITY TODAY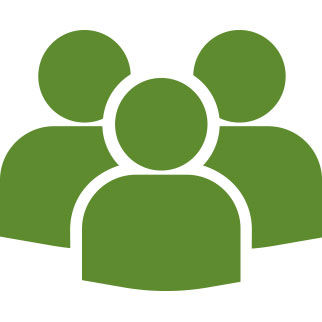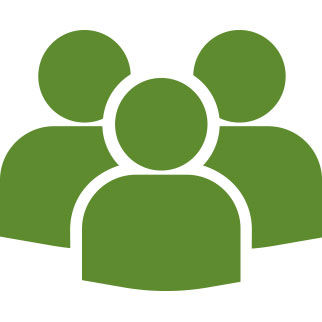 SUSTAINABILITY DEPARTMENT
We have set up a Sustainability Department so we can focus even more on this issue which is very important to us and will be promoted in the future. In addition, we now also have Sustainability Officers in every department, who are very invested in sustainability, both personally and professionally.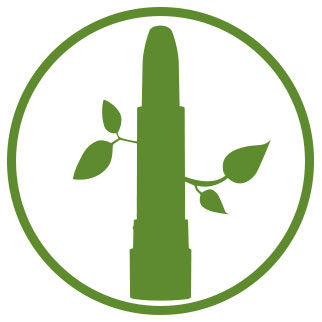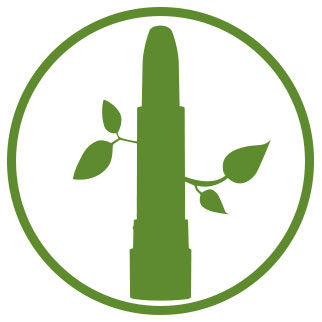 PRODUCT PACKAGING SUSTAINABILITY PROJECT
Product and brand management specialists are currently working on guidelines for more sustainable product packaging. The project team is also looking at how we handle plastics in the future, the recyclability of our packaging and tools to assess this.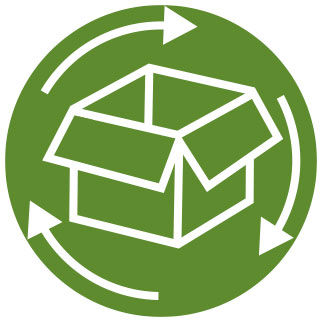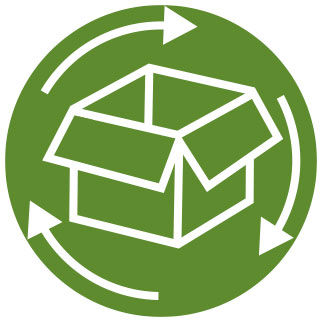 TRANSPORT PACKAGING SUSTAINABILITY PROJECT
Specialists from all our business units are dealing with sustainability along the supply chain to create a more sustainable transport packaging design not only for us, but also for our partners, and in doing so are able to identify and implement potential savings and changes to materials.
MORE TRANSPARENCY WITH OUR SUSTAINABILITY REPORT
With our Sustainability Report, we create more transparency for our customers and partners.

Read here in our sustainability report what we are already doing and what we have set as our goal for the future. Because we are convinced: "No planet, no beauty".
IN THE FUTURE WE WANT TO TAKE A HOLISTIC APPROACH TO SUSTAINABILITY & BRING ABOUT CHANGE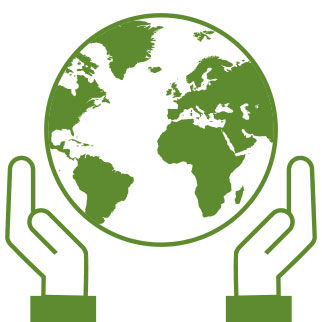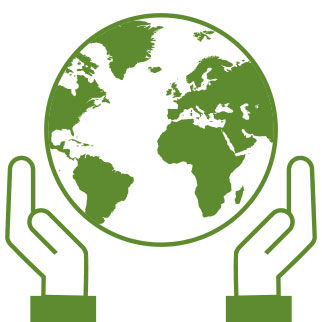 We want to consider various dimensions of sustainability in our challenges as a company. We question and change the way we develop, manufacture and do business, because safety and quality are indispensable. It is also essential to be bold, to accept responsibility and set challenging goals – after all "there is no plan(et) B."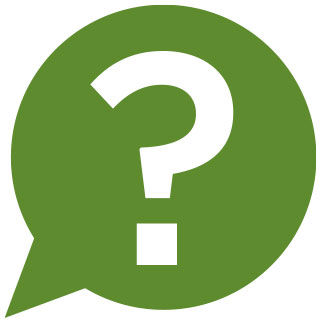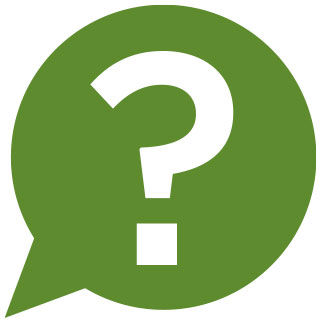 Over the coming weeks and months we will be extensively dealing with the following issues:
How do we make our contribution to a recycling economy?
How can we use more recycled material in future without compromising on safety?
What can we avoid or reduce, and how can we become more efficient?
How high is our carbon footprint and what can we do to reduce our emissions?
How do we continue with our social commitment?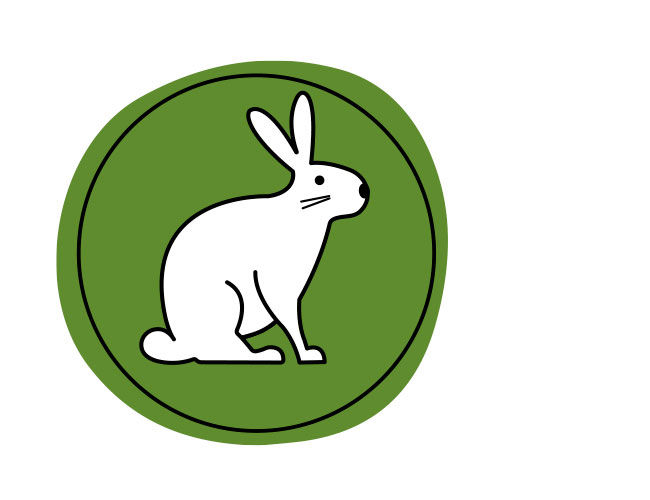 No Animal Testing
ANIMAL WELFARE IS CLOSE TO OUR HEARTS
We guarantee premium quality without animal testing, and our ingredients have been selected based on strict criteria.