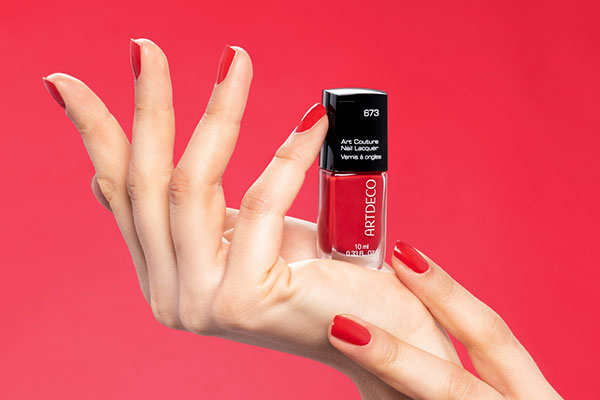 #ARTDECOBeauties
Become part of the ARTDECO community! Post your ARTDECO looks
Join in: Every month we will be randomly selecting a photo and giving away attractive product prizes!
Apply nail polish like a pro with exclusive ARTDECO nail polish
Discover our wide range of nail polish colors at ARTDECO
Our premium ARTDECO nail polish transforms your nails into beautiful eye-catchers. Whether you're going for a natural look, subtle French nails, sexy red nails, or the latest nail designs, ARTDECO nail polish helps you rise to the occasion. To get the classic French look, ARTDECO has a selection of French manicure products that are particularly fast drying and long lasting. Your feet also deserve some extra pampering – how about a pedicure or simply painting your toe nails? If you're looking for the trendiest colors for your nails, you'll love ARTDECO's high-end Art Couture Nail Lacquer. You're sure to find your new favorite shade of nail polish amongst the wide range of uniquely brilliant and ultra durable colors. The color is distributed perfectly over your nails thanks to our innovative brush made of high-quality nylon fibers. And with the wide range of nail polish colors in our Color & Care Nail Lacquer collection, it's easy to get classic or even extravagant nails. It also serves as the perfect nail care treatment thanks to its moisturizing ingredients that leave you with intensely rich colors. Go for our specially developed base and top coats like the Color & Care Base Top & Coat to provide your nails with the best protection and give them incredible shine. It's a top coat and base coat in one. Removing nail polish is easy with our acetone-free nail polish remover. It's the perfect nail polish remover for both natural and artificial nails thanks to its gentle formula.
Dazzle with a perfect manicure and learn how to properly apply nail polish in our manicure tips!