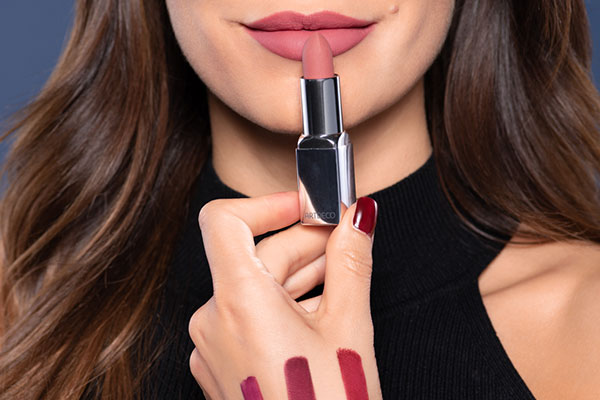 #ARTDECOBeauties
Become part of the ARTDECO community! Post your ARTDECO looks
Join in: Every month we will be randomly selecting a photo and giving away attractive product prizes!
Get gorgeous lips with kiss-proof lipstick from ARTDECO
For perfect, long-lasting lip makeup
ARTDECO lipsticks give your lips a touch of brilliance and sensuality. Lipstick isn't just regular, everyday makeup, it's also a gorgeous accessory that lets you make a statement. Turn your lips into real eye-catchers with ARTDECO lipstick. At the same time, our lipsticks moisturize and protect the sensitive skin on your lips with their high-quality ingredients. Thanks to its moisturizing, gel-based texture, our Color Lip Shine Lipstick gives your lips a silky, delicate feel. Whether you're going for classic red or dark red, glittery or coral, the good news is that ARTDECO's Perfect Color Lipstick comes in a wide variety of intensive colors. It's never been easier to find the right shade for your look. We also recommend our Art Couture Lipstick for a touch of feminine elegance. And our long-lasting Perfect Mat Lipstick gives your lips a trendy matte look. There's no limit to your imagination! Tip: Start by applying a Lip Base. This lip primer neutralizes the natural color of your lips and brings out the brilliance and richness of your lipstick color. To get a long-lasting finish, seal your lipstick with ARTDECO Magic Fix. Our lipstick sealer gives your lipstick the ultimate staying power. The best part? It also makes your lipstick waterproof!