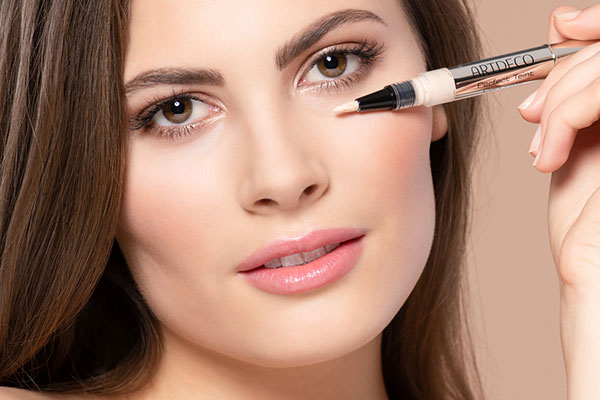 #ARTDECOBeauties
Become part of the ARTDECO community! Post your ARTDECO looks
Join in: Every month we will be randomly selecting a photo and giving away attractive product prizes!
Getting good coverage is easy thanks to ARTDECO concealer
Visibly reduce the appearance of fine lines and dark circles with concealer
Our Perfect Teint Concealer Say goodbye to dark circles! ARTDECO concealer hides dark eye circles, signs of fatigue, redness, and fine lines in the blink of an eye. To get a radiant complexion, apply concealer after putting on foundation. Apply a thin layer of concealer around your eyes, to the middle of your forehead, the bridge of you nose, your cheeks, and the middle of your chin. Our Perfect Teint Concealer features an elegant twist mechanism and has been designed with practicality in mind, allowing you to measure out and apply just the right amount. Thanks to its high concentration of color pigments, ARTDECO concealer is a sure-fire way to cover dark circles and give your complexion a fresh, even look. For example, our Perfect Teint Illuminator perfectly conceals flaws and highlights facial features thanks to its soft, light-reflecting pigments. Its light and silky texture reduces the appearance of aging skin, including dark eye circles and fine lines. The result? Your eyes look rejuvenated and your skin appears fresher. Our Perfect Teint Concealer and Mineral Concealer have been specially developed for sensitive skin. And thanks to their moisturizing ingredients and essential minerals like tourmaline and calcium, they don't dehydrate your skin. Get optimal coverage for redness, imperfections, and blemishes using our Perfect Stick concealer! Simply apply the makeup stick to any imperfections and blend it into your skin. Next, apply makeup as usual. Our tip: To get perfectly even coverage, carefully dab the concealer onto your face with your fingertips. Set your makeup with a high-quality setting powder like our High Definition Compact Powder for a long-lasting finish.
How do you get a natural look using just two products? We'll show you how in our makeup tips for micro-concealing!