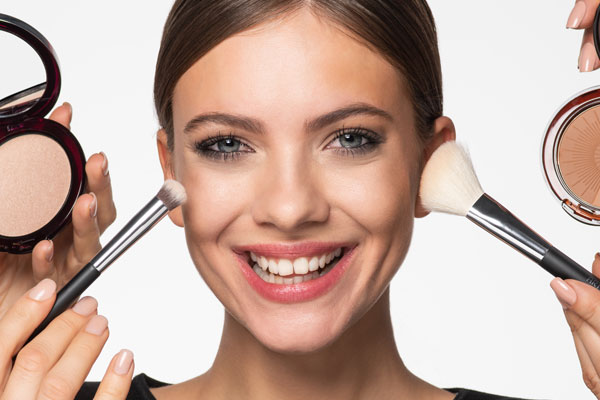 #ARTDECOBeauties
Become part of the ARTDECO community! Post your ARTDECO looks
Join in: Every month we will be randomly selecting a photo and giving away attractive product prizes!
Perfect makeup with professional makeup brushes from ARTDECO
High-quality makeup brushes from ARTDECO
When it comes to getting perfect makeup, ARTDECO makeup brushes are the best tools to have by your side. The handy ARTDECO brushes, made with the finest quality hair, were developed by professional makeup artists and enable makeup to be applied with skill and precision. ARTDECO offers a wide variety of quality makeup brushes made of synthetic or natural hair for all the steps in your makeup routine. Our Lip Brush Premium Quality, for example, is an absolute must-have for perfect lips. It allows you to create precise, colorfast contours, and gives your lip makeup an even finish. The All in One Powder & Make-up Brush is made of soft goat hair and nylon, and is great for evenly applying liquid foundation and loose powder. The angled shape of our Blusher Brush makes it easy to apply blush, bronzing powder, and contouring makeup, allowing you to create contours and highlights with precision. You can even apply your highlighter, like the Highlighter Powder Compact, using a blush brush. The result? A light, fresh glow. Our versatile makeup brush is also a highlighter brush and a contouring brush. It is made of tiny hairs that distribute color and contour selected parts of your face. The longer side is used to apply highlighter evenly. Apply eye makeup like a pro with eyeshadow and eyeliner brushes. Whether you're going for smokey eyes, a nude look, or party makeup, ARTDECO eyeshadow brushes help turn dreams into reality. Complete your eye makeup with naturally beautiful brows. Get perfectly shaped brows with our Eyebrow Powder and Eyebrow Brush. Store your makeup brushes safely and hygienically in our ARTDECO Brush Bag to protect the tiny brush hairs from bending, getting out of shape, or falling off. Want to go the extra mile for your brushes? Wash your ARTDECO makeup brushes with our Brush Cleanser.