4.5g
1,77 €/g, inkl. MwSt.
Camouflage foundation with a variable finish
Camouflage foundation with variable coverage for pigment disorder, tattoos, and redness
Extremely long lasting and waterproof when used in combination with setting powder
Suitable for the refillable Beauty Box
More product details
A full-coverage foundation you can count on! The Camouflage Cream is excellent at reliably concealing skin imperfections, which makes it ideal for special occasions. All shades can be mixed together to create a perfect match for your skin tone. The foundation is also very long lasting and stays in place even at high temperatures. It has very full coverage and becomes waterproof after being set with powder. You can achieve light to very full coverage depending on the amount of product applied. The foundation pan and spatula can be stored in the practical magnetic box. This allows you to collect different shades and use them individually to perfect your facial features!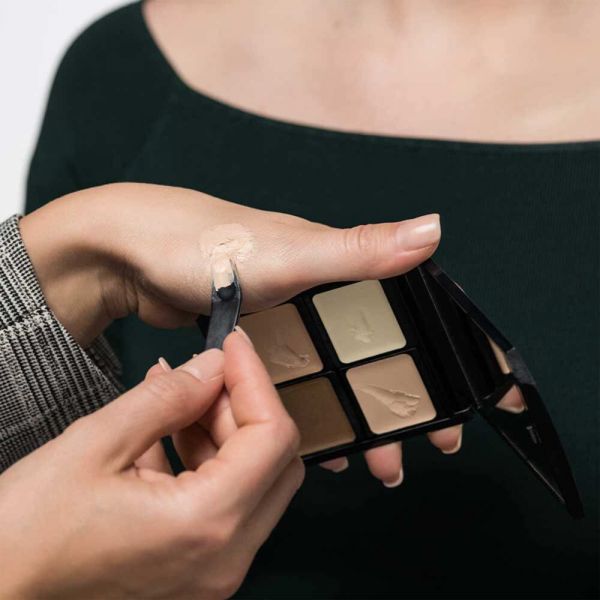 Apply the foundation in your skin tone for a long-lasting, even finish. The Make-Up Brush in Premium Quality is perfect for picking up the product with the tip and applying it over the entire face. We recommend using a moisturizer that suits your skin type beforehand. To create the perfect shade for your skin tone, you can mix various shades together on the back of your hand before applying it to your face.
Expert tip: Concealing and neutralizing with precision
The green-toned shade no. 1 is perfect for neutralizing redness.
No. 8 is ideal for pigment disorders and bluish areas of skin.
For highlighting and concealing, we recommend no. 2 or no. 8.
For brightening and highlighting the eye area, no. 15 is perfect.
No. 30 is best for contouring to create beautifully sculpted facial features.
The ARTDECO Concealer Brush is ideal for concealing and neutralizing with precision. Set in place with our transparent Fixing Powder for a smudge-proof and waterproof finish.
Select a color to see the corresponding ingredients.
Please note: To get the best textures, we always draw on the latest scientific findings. This may result in changes to the product labeling.